Donovan Aird and I were just talking about the Cal Poly quarterback situation in the office this afternoon, and it all started because the Mustangs have picked up another one.
Basically, here are my thoughts for next year:
Andre Broadous has to be the clear frontrunner. The only other player on the team with college game experience is Doug Shumway, and even though he led the comeback victory over Montana, Shumway only played in one other game.
If Broadous is unable to hold off Shumway or even one of the other younger guys, it would be a huge disappointment for the junior-to-be from Portland. The depth chart is set up for Broadous to be the starter the next two seasons.
Expect coaches to publicly treat the spot as if it's an open competition. That's the best way to motivate all the guys.
But I'd bet even they would be disappointed if Broadous isn't the clear-cut winner — because the only way I see that happening is if his offseason performance is underwhelming, rather than someone else being spectacular.
That said, another option has emerged as a potential starter down the road.

After Compton Dominguez quarterback Chris Brown talked about his verbal commitment to the Mustangs two weeks ago, Tu'uta Inoke, a senior from Burbank High in Sacramento, has also gone public with his verbal to Cal Poly.
It's somewhat interesting that the Mustangs are bringing in two quarterbacks in this class. I guess either one would also be a good athlete at another position, but Brown said he chose Cal Poly for the opportunity to take snaps. I'm guessing the same holds true for Inoke.
It's also interesting that the only two public verbals to this point are from quarterbacks. Take that for whatever it's worth, but it appears the position has been made a high priority.
Unlike when Dominguez visited Arroyo Grande a couple weeks back in the prep playoffs, we never got to see Inoke play on the Central Coast, but check out his statistics and highlight video below.
Inoke gained 2,750 total yards this season and accounted for 27 touchdowns. More than 1,600 of his yards came on the ground while running the triple option out of a flexbone formation that closely mirrors Cal Poly's.
Compare for similarities.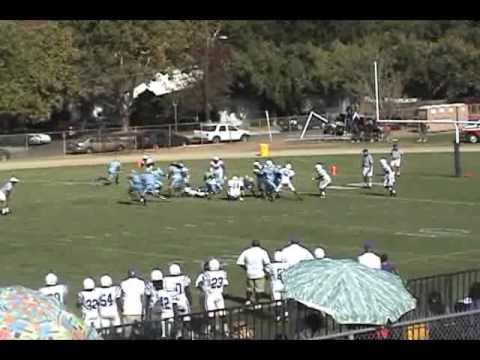 It's very easy to see Inoke running the Mustangs offense because it looks like he's already running it. His Scout.com profile compares him to Jeremiah Masoli, but when he's running, he reminds me of a slightly bigger Jonathan Dally.
That's a lofty comparison, and I don't know if Inoke can replicate the passing success Dally had in green and gold, but it should be fun to see him and Brown battling it out at the sports complex.
Related posts: