Interim title-holder Phil Webb was on track to becoming the first undefeated athletic director in Cal Poly history.
The money man in the Mustangs' athletic department, Webb watched Cal Poly's programs improve to 9-0 this month under his watch after the women's basketball team came back from down eight in the second half to win at UC Irvine, 72-70 on Saturday.
Then the men had their three-game winning streak snapped by the Anteaters with a 65-53 loss in Mott Gym later that night to hand Webb his first defeat.
Webb might have pulled off a perfect record, too. He's only expecting to run the show for the next few months until the full-time replacement for Alison Cone is identified, possibly in March, but the more troubling thing than his record is some of the reasoning behind the Mustangs men's below-par — even for them — offensive performance.
The team's current machinations are not very tournament friendly, and here's why.
Head coach Joe Callero didn't have a great feeling coming into the game because his young, injury plagued team only had one practice session to prepare for the switching defensive style of UC Irvine, which expertly snared full-court presses and half-court traps on Cal Poly.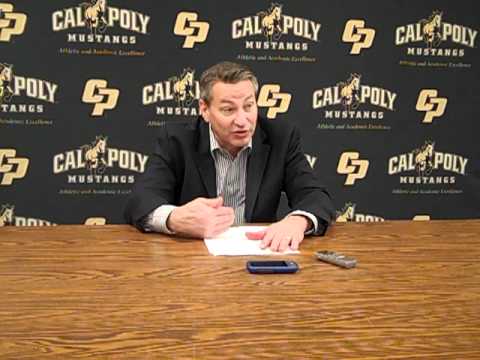 As he says in the postgame interview in the video above, Callero feels more confident going into Wednesday's matchup at UC Riverside because he'll have a few days to drill a gameplan, and the players will have a chance to rest.
Seven players combined to play all but seven minutes (out of 200) in Saturday's loss, and knowing that he'd have a short bench, Callero elected to go with a light practice on Friday to help keep guys fresh.
The Mustangs responded with a sluggish start, had their worst 3-point shooting effort (4 for 25) of the season and had more turnovers, 15, than they've had in any of the past 10 games.
As deliberate offensively and effective at controlling the pace as Cal Poly was in Thursday's 58-54 win over visiting Cal State Fullerton, it was plain to see what the Mustangs could do with a big window of time to prepare.
Callero's a good coach, and the team is showing it is willing to and able to carry out his schemes with the proper preparation. That's a huge positive. They've bought into him and his staff and their methods.
But in the loss to the Anteaters, who seem to have similarly bought into first-year head coach Russell Turner (formerly of the Golden State Warriors), it was also clear that one day of light practice didn't cut it against a team with a more sophisticated defensive style.
So here comes the Catch 22: Cal Poly needs the live-action prep time to be fully ready to execute its frustrating slow-down game to the fullest extent, giving the Mustangs the best chance to win. They also need to rest up as much as possible because of how the injuries have piled up against them.
If you subscribe to the above, the forecast the rest of the way in the Big West looks like sunny on Thursday, cloudy on Saturday.
The real issue could come up when Cal Poly makes it to the Big West Tournament, providing the Mustangs do not fall into last-place in the second half of conference play. To make it to the NCAA Tournament, the Mustangs would have to win three-straight games on three straight days.
That means no rest and no practice time.
Cal Poly will have to find a way around that problem or else March is going to be truly Maddening.
Related posts: