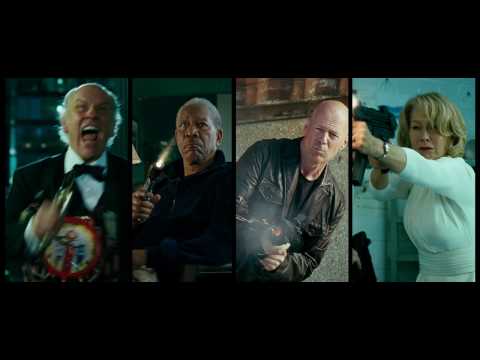 Bruce Willis, Helen Mirren get tough in "RED"
Note: My coverage of Comic-Con International, the annual pop culture convention held in San Diego, continues today with tidbits from the July 22 panel for "RED."

It's easy to picture "Die Hard" badass Bruce Willis as a tough-as-nails spy. But what about Oscar-winning actress Helen Mirren?
In her latest film,the star of "The Queen" and "The Last Station" plays an ex-CIA agent who joins forces with a former teammate (Willis) when his peaceful post-retirement existence is threatened by high-tech assassins. Together, the aging agents (including John Malkovich and Morgan Freeman) must use all of their collective cunning, experience and impressive weapons expertise to stay alive.
A week ago, Mirren and fellow castmembers Willis, Mary-Louise Parker ("Weeds") and Karl Urban ("Star Trek")  sat down in San Diego to discuss the film "RED" with producer Lorenzo di Bonaventura and comic book creators Warren Ellis and Cully Hamner.
"You always want to do something that's going to kick the last role out of the water and put you on a new path," explained Mirren, who showed up wearing a "Harvey Pekar: Rest in Peace" T-shirt.
"The people who go and see this are not the same people who will go and see a movie about Tolstoy," she added with a laugh.
Directed by Robert Schwentke ("The Time Traveler's Wife"), "RED" is based on the graphic novel mini-series by writer Warren Ellis and illustrator Cully Hamner.
When filmmakers approached him with the idea of making a movie, Ellis told them, "'Your job is to make an adaptation, not a translation. It's your film. Now go have fun with it.'"
"These are people who loved the book and love comics," he said. "My job was to stay out of the way of the film."
Hamner said the movie version of "RED" fleshes out the original story considerably. "We did a pretty economical mean little 66-page graphic novel," he said. "The core of what we did is still there, but it's funnier. It's lighter."
Willis, who plays retired spook Frank Moses, spoke about the film's comedic nature.
"Everyone in this film was funny and is funny," he said. "I wish there was a making-of film of everybody off-camera trying to keep a straight face. People talk about this film as if it's just an action film but I thought it was a romantic comedy."
As luck would have it, the lovely Mary-Louise Parker plays Willis' love interest. "I don't instigate the action," she noted. "Usually Bruce is just dragging me somewhere."
Asked how she stayed in character, the actress shared that "Alec Baldwin said, 'Just look like you always have to pee and then it will look like you're in danger.' So I thought of that."
Karl Urban plays a CIA officer whose job is "to hunt down and kill Bruce Willis. "It's not a stereotypical bad guy twirling a mustache," said the hunky actor, who elicited squeals from female fans. "I'm a guy with a family trying to do a job."
"It's not often that you get to pick up one of the most iconic actors and throw him across the room and smash some furniture," Urban added, referring to Willis. "He's a wonderful man, a generous actor."
As Urban noted, "One of the things about this job is we get taught to do these insane things that we could never do in real life."
At the same time castmembers were learning how to fight, drive and shoot guns, they were also learning about the complex world of the CIA.
"It really truly was mind-blowing," Urban said, noting that "RED" contrasts old-fashioned on-the-ground intelligence gathering with new technology. "They can actually track you with your cell phone even when your cell phone is turned off."
He trained with assistant stunt coordinator Buster Reeves, who also worked on "Clash of the Titans" and "Prince of Persia: The Sands of Time."
"He would say, 'Okay, Karl, I'm going to come toward you and you tell me when you feel threatened,'" Urban recalled. "He took one step and I'm like 'yeah' (raises arm) … He got me in a chokehold once and almost choked me out."
Urban's fellow cast members also learned about firearms and mixed martial arts.
"The most difficult thing about shooting a gun on film is not to pull a silly face when the gun goes off," Mirren joked.
"It was easier than I thought it would be. … There was a pleasure in doing it," she said. "Iwas really intimidated coming into it. I was s**t-scared. It was an unknown world to me, a different genre."
"It was great to have guns instead of words," she added with a laugh. "Long speeches are harder than shooting a gun off."
Said Willis, "Everybody was on their best behavior making this film."
"I played Little League baseball when I was a kid and I wasn't that good," he said. "Working on this film was like somebody say 'Come up and play with the Yankees. Everybody stepped up to the plate and hit the ball out of the park."
Although Morgan Freeman and John Malkovich weren't able to attend the panel, their co-stars had nothing but praise for the veteran actors.
"He's a Renaissance man, is John," Mirren said. "He's a clothes designer. He does one-man shows. He does opera. He's just the most extraordinary talented man."
"He's also very kind and very sweet and incredible fun to be with," she added.
"In the ninth or tenth week we found out we were going to work with Richard Dreyfuss," Willis shared. "We were like little kids. 'Oh god, Jaws is going to be here.' That was our code name: 'Jaws.' 'We're going to work with Jaws today.'"
***
"RED" opens in theaters on Oct. 15.
No related posts.