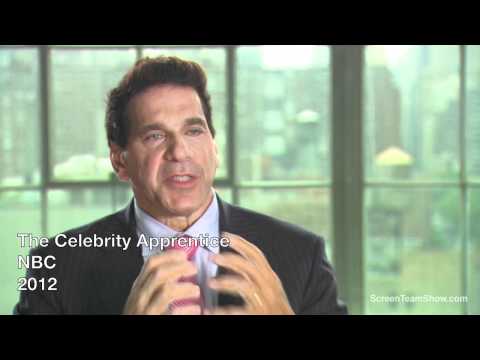 Lou Ferrigno has gone from "Incredible Hulk" star to "Celebrity Apprentice" contestant
Lou Ferrigno is a pretty incredible guy.
Best known as the star of the hit television show  "The Incredible Hulk," Ferrigno overcame childhood hearing loss to become a champion bodybuilder, actor, motivational speaker and personal trainer. He's currently a contestant on the NBC reality competition "The Celebrity Apprentice," and he moonlights as a reserve deputy with the Los Angeles County Sheriff's Department.
Plus, at age 60, Ferrigno looks better than most of us do at 40.*
Ferrigno attributes his success to a positive attitude, persistence and a lifelong dedication to health and fitness.
"If you're able to compete with your self, and maximize your personal power, you're rich," he said. "When you compete with others, you fail."
Without his hearing loss, he added, "I would have never gone as far as I have, because it's a builder of character."
I recently profiled Ferrigno, who splits his time between Santa Monica and rural Arroyo Grande, for The Tribune. (You can read my interview right here.) Below are some insights that didn't make it to the printed page.
***
Lou Ferrigno on the Hulk:
I was the Hulk my whole life. … As a kid, I was a very angry kid. I had a lot of frustrations. (But) I've learned to be better friends with my body and myself. …
Everyone of us has anger and fear. We relate to the Hulk because every one of us has a little bit of the Hulk inside of us.
On bodybuilder Steve Reeves:
Steve was the first Hercules in the '50s. He was my idol…. I used to have pictures of Steve Reeves that I cut out (from magazines) and put on the wall. When I lifted weights, I used to look at those pictures and dream about being like him.
On "The Incredible Hulk":
They can make 50 "Hulk" movies and it will never hold up to the original series. It's like "Star Trek" or "The Twilight Zone." That show was magic. Every (episode) you watched, you learned something.
On "The Celebrity Apprentice":
It's a backstabbing circuit….  Surviving the boardroom is brutal. You keep getting beat up. When you're on this show,  you're vulnerable. Any thing you say, you can't take back.
On his biggest competition:
Penn Jillette has a superior attitude. He's one of the people who never focused on his body, but up here (pointing to his head). He plays head games.
On being a reserve sheriff's deputy:
My dad was a police lieutenant. Because of him, I became a deputy. I had a respectful upbringing….
I had to go through the academy, get certified by POST (the state Commission of Police Officer Standards and Training). I took 14 different tests. If you can't drive, you can't write (and) you can't shoot, you're not going to be a deputy.
On why he's a a good role model for kids:
I'm a very grounded guy…. I don't deal with ego because no one is better than anyone else.
(By becoming a deputy sheriff) I'm saying, "Hey, kids, Lou Ferrigno is a celebrity. He's not on TMZ. He's not getting DUIs. He's not beating somebody up."
****
* Want to look like Lou Ferrigno? Well, some weightlifting experience wouldn't hurt, but you could also try his workout routine. He trains five to six days week for an hour and a half, dividing his time equally between cardio and weightlifting. At 6-foot-5, he weighs 250 pounds.
No related posts.