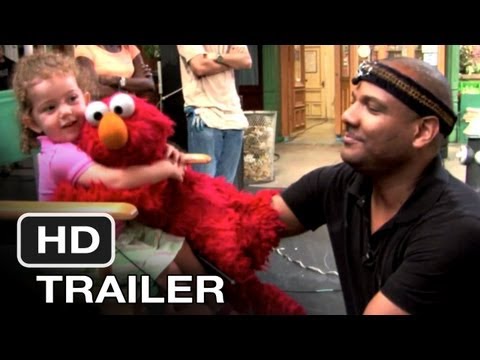 "Being Elmo" documentary reveals the man behind the Muppet
After two fairly dark films, I thought I'd pick something more pleasant for "What to Watch."
Launched two weeks ago, the series features short reviews of movies and television shows available on Blu-Ray, DVD, Hulu or Netflix. I include a short summary and share my take on the title in question.
This week's selection is a delightful documentary, 2011′s "Being Elmo: A Puppeteer's Journey."
***
My husband does not cry during movies.
Whereas I'm apt to turn on the waterworks at the slightest provocation, he usually remains dry-eyed and dependable — always ready with a Kleenex or a comforting arm.
So when I caught hubby surreptitiously wiping away a tear while watching the documentary "Being Elmo: A Puppeteer's Journey," I knew we had found a special film.
A sweet, smart and engaging film, "Being Elmo" traces the career of Emmy Award-winning puppeteer Kevin Clash from his humble beginnings in Baltimore to his success on the beloved children's television series "Sesame Street."
Through interviews with Whoopi Goldberg, Rosie O'Donnell and others, we learn about Clash's lifelong love of puppetry, his history with the popular PBS show, and his relationship with"The Muppets"creator Jim Henson. We go behind the scenes of "Sesame Street" and watch Clash, who serves as Sesame Workshop's senior creative advisor, coach his French counterparts on the proper way to move like a Muppet.
We also gain insight into Clash's most popular character, Elmo — he of the fuzzy red fur and high-pitched giggle. Portrayed by previous puppeteer Richard Hunt as rowdy and rough-mannered, Clash's Elmo is the ultimate kid: silly, boisterous and brimming with affection.
"I knew that Elmo should represent love," explains Clash, who took over from Hunt in 1984.
It's this quality, he believes, that has captured the imagination of children throughout the world.
Being the man behind the Muppet takes its toll, of course. Although director Constance Marks doesn't delve too deeply into Clash's personal life — he mentions a divorce and we meet his teenage daughter — it's clear that his packed schedule leaves him with little time for a family.
Still, Clash's passion for performing never wanes.
In one of the movie's most enjoyable passages, he shares the tricks of the trade with a young puppeteer who longs to work in show business. The two come across as kindred spirits — gentle, generous souls with the magical ability bring foam and felt to life.
As legendary puppeteer Frank Oz explains in "Being Elmo," "When a puppet is true and good and meaningful, it's the soul of the puppeteer you're seeing."
Clash, in that case, has a beautiful soul.
***
Where to watch: "Being Elmo: A Puppeteer's Journey" is currently showing on PBS's  "Independent Lens" series. It's also available via DVD and Netflix's "Watch Instantly" option.
No related posts.