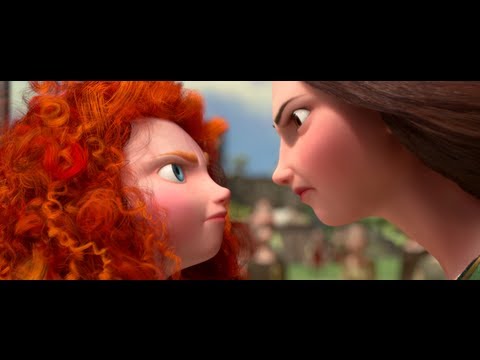 In honor of "Brave," here are a few of my favorite real-life redheads
Merida's hair is as much a character in "Brave" as the Pixar princess herself.
Her long, unruly tendrils — the same glowing orange as Frito-Lay's Flamin' Hot Cheetos – set each frame of the animated film aflame. Radiant red curls spring out of wimples. Fiery locks bristle, bounce and waft in the breeze.
Merida's dynamic 'do is so extraordinary, in fact, that it's captured the attention of everyone from Associated Press critic Christy Lemire, whose list of famous movie redheads included Woody Allen and Jessica Rabbit, to Salon.com writer L.V. Anderson who blames the movie for perpetuating the "fiery redhead" stereotype.
It's true that red hair is often used as Hollywood hair shorthand, usually to indicate when a character is quirky, quick-tempered or stubborn. But what's so wrong with a little color?
As a natural brunette who's experimented with every shade from fire-engine red to cantaloupe orange, I admire anyone willing to rock naturally ginger locks.*
Below are some of my favorite real-life redheads.
***
Lucille Ball — She might have looked like a ditzy dame on her classic television show, but the flame-haired comedienne was a sharp, ambitious businesswoman behind the scenes.
Katharine Hepburn — With her long, lean frame, strong cheekbones, piercing blue eyes and auburn mane, Kate Hepburn was the ideal aristocratic redhead: intelligent, proud and just a little bit haughty.
Maureen O'Hara — Just as British actress Moira Shearer's fiery locks lit up the screen in "The Red Shoes," Irish-American movie star Maureen O'Hara's hair stole the show in "The Quiet Man."
Conan O'Brien — Without his signature swoop, the tall, gangly talk show host could be mistaken for Craig Kilborn. Instead, the star of "Conan" has made his ginger hair and pale skin part of his schtick — even appearing with blonde Jim Galligan as colorless crime fighters in the animated series "Pale Force."
Damian Lewis — Like fellow Brit Kevin McKidd ("Brave," "Grey's Anatomy"), this hunky Scotsman's hair is part of his appeal. He's currently starring in the critically acclaimed Showtime series "Homeland," winner of two Golden Globe Awards.
Brendan Gleeson — Thanks to recent roles in "The Guard," "In Bruges" and the "Harry Potter" films, the criminally underrated, redheaded Irish actor is finally starting to get the credit he's due.
Nicole Kidman — Born in Hawaii and raised in Sydney, this flame-haired beauty burst onto the international scene as Tom Cruise's love interest in "Days of Thunder." Since then, she's proved that she's more than a pretty face — earning an Academy Award as Virginia Woolf in "The Hours," and garnering Golden Globe wins for "To Die For" and "Moulin Rouge!"
Kathy Griffin — Nobody embodies the "red-headed stepchild" stereotype quite like Kathy Griffin, who capitalized on her brassy stand-up act with stints as a co-host on "The View"and the Emmy Award-winning star of "Kathy Griffin: My Life on the D-List."
Jessica Chastain — Lithe, lovely and exceptionally talented, the Oscar-nominated actress enjoyed a banner year in 2011 — appearing in "The Help," "The Tree of Life" and "Take Shelter," to name a few. This year, her film credits include the Depression-era gangster drama "Lawless."
Ron Howard — Remember that cute, freckled carrot-top from "The Andy Griffith Show" and "Happy Days"? Well, he's become one of Hollywood's most powerful director/producers — helming "Apollo 13," "The DaVinci Code" and "A Beautiful Mind."
***
* Unfortunately, two of my favorite actresses — "The Amazing Spider-Man" star Emma Stone and "Mad Men" star Christina Hendricks — aren't natural redheads. They were both born blonde.
No related posts.