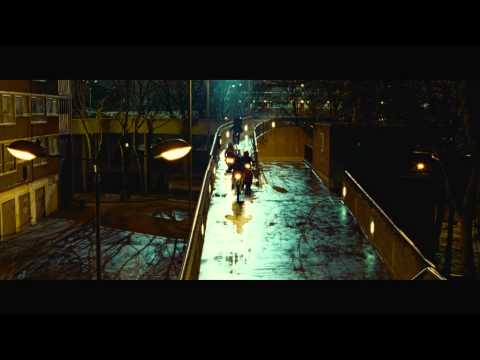 Kids defend their inner-city neighborhood from aliens in "Attack the Block"
You'd think we would have figured it out by now.
Hostile extra-terrestrials have been arriving on Earth for decades. They've destroyed our national monuments ("Independence Day," "Mars Attacks"), invaded our cities ("Battle: Los Angeles," "War of the Worlds") and infiltrated our ranks ("Invasion of the Body Snatchers," "They Live").
Yet every time space travelers show up, it seems, we're always surprised they don't "come in peace."
In "The Watch," which opens July 27 in theaters everywhere, those rascally aliens are up to their old tricks.
Helmed by "Hot Rod" director Akiva Schaffer, the movie follows a group of suburbanites (Jonah Hill, Ben Stiller, Vince Vaughn and Richard Ayoade) who form a neighborhood watch, only to find themselves facing off with hostile extra-terrestrials. (Seth Rogan and Evan Goldberg, who previously collaborated on
"The Green Hornet," "Pineapple Express" and "Superbad," wrote the script.)
The plot of "The Watch" bears a striking resemblance to another sci-fi comedy-thriller: 2011′s "Attack the Block." In the film, directed by newcomer Joe Cornish, tough inner-city kids must defend their turf from an alien invasion.
Here's my take on this week's "What to Watch" selection, "Attack the Block."
***
Like 2010′s "Monsters," another indie sleeper hit about extra-terrestrials, "Attack the Block" achieves a lot with a small budget, no-name actors and an audacious, intelligent script.
Moses (John Boyega) and his teenage crew — Pest (Alex Esmail), Dennis (Franz Drameh), Jerome (Leeon Jones) and Biggz (Simon Howard) — are the undisputed overlords of "The Block," an impoverished, crime-ridden apartment complex in south London. Here, they're feel to rob and ravage to their hearts content, provided they pay proper tribute to adult gangster Hi-Hatz (Jumayn Hunter).
Moses and his boys are in the midst of mugging their latest victim, hapless nurse Sam (Jodie Whittaker), on Bonfire Night, when they're interrupted by a mysterious bombardment.
As alien crafts plummet to earth, the gang manage to capture and kill one of the creatures. (The extra-terrestrials resemble shag-carpeted apes with glowing blue teeth.)They take the corpse to neighborhood drug dealer Ron (Nick Frost), who agrees to let them leave it in his "weed room."
Armed with an assortment of weapons, the gang returns to the streets — only find themselves fighting, not only the aliens, but the police and Hi-Hatz's henchmen as well. They'll have to rely on each other, and reluctant ally Sam, to survive.
With its grimy low-budget aesthetic, "Attack the Block" has more in common with "The Warriors" than similar kids-meet-aliens movies like "E.T.: The Extra-Terrestrial" or "Super 8."
Think "Assault on Precinct 13″ or "The Raid: Redemption," with kids substituted for cops. This cheeky little actioner simply throbs with energy, excitement and wit.
The heart and soul of the film is Moses, played capably by John Boyega. At times boyish and belligerent, at other times surprisingly mature, his character all but carries "Attack the Block" on his hoody-draped shoulders.
It's worth noting that writer-director Joe Cornish couldn't have made "Attack the Black" without the blessing of producer Edgar Wright, the man behind "Shaun of the Dead," "Hot Fuzz"and "Scott Pilgrim vs. the World." Just like those movies, "Attack the Block" is a welcome addition to the horror/sci-fi canon.
No related posts.