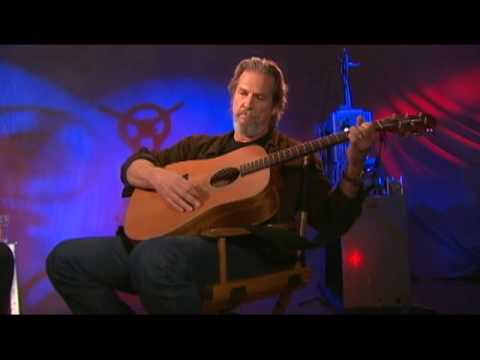 Oscar winner Jeff Bridges channels "The Big Lebowski" at SLO Brew show
The Dude does indeed abide.
At a sold-out show Thursday night at SLO Brewing Co., Academy Award-winning actor Jeff Bridges appeared every inch of the character he plays in "The Big Lebowski": likable, laidback and friendly to a fault. Bridges and his band, The Abiders, even posed for photos before and after their 90-minute set.
"It's great playing for you tonight," Bridges told the mostly grey-haired crowd gathered at the San Luis Obispo concert venue.
Sporting a blue-and-white Hawaiian shirt and blue jeans, Bridges kicked off the concert with the zippy zydeco tune "I Don't Know," originally featured in his film "Crazy Heart."
"I broke a string in the first song. That's good luck!" a chuckling Bridges said.
Thursday's set list featured an assortment of country songs from the Grammy Award-winning "Crazy Heart" soundtrack, including "Hold on You," "Somebody Else" and "Fallin' & Flyin'," as well as folk-rock selections from his 2011 album "Jeff Bridges."
They included "What a Little Bit of Love Can Do," "The Quest" and "Maybe I Missed the Point." (The latter was penned by Bridges' childhood friend, Johnny Goodwin.) Bridges also played a song from his 2000 album, "Be Here Soon," "She Lay Here Whip Down."
During a moving rendition of the Oscar-winning signature song from "Crazy Heart," "The Weary Kind," Bridges shared that songwriter Ryan Bingham was originally hired as a "Crazy Heart" castmember.
One day, Bingham brought a recording to the set.
As they listened to "The Weary Kind," Bridges recalled, "I looked over at (music producer) T-Bone (Burnett). He had this wonderful, relaxed look on his face because he was free. We got that on tape."
After the final chords rang over a hushed crowd, lead guitarist Chris Pelonis said Bridges' performance of "The Weary Kind" was one of the best he'd heard on tour.
His eyes twinkling, the performer replied in perfect Dude-ese, "That's, like, your opinion, man."
Of course, Thursday night's concert was not without a couple hiccups.
Halfway through "Blue Car," Bridges admitted, "I forgot the damn words! … We're screwing up one of my favorite songs and that's a big deal for me." The cheering, clapping crowd didn't seem to care.
Bridges and The Abiders closed their set with "Thousand Year Plan," a garage rock anthem that he penned with Goodwin. "Life is a mountain, peace is a tunnel," he sang, "If we're ever going to make it through, we need a thousand year plan."
The band returned after a brief break to play two encore songs: Bridges' psychedelic folk rocker "Slow Boat," and Creedence Clearwater Revival's "Looking Out My Back Door," memorably featured in "The Big Lebowski."
As audience members raised their glasses in the air in salute, a beatific smile split Bridge's face. Very cool. Very Dude.
***
Fellow Tribune blogger Pat Pemberton also wrote a review of Thursday's Jeff Bridges concert. Check it out right here.
No related posts.