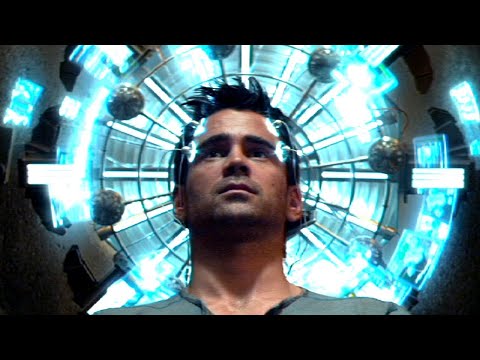 Summer movie season ends with "Total Recall," "The Bourne Legacy"
Summer 2012 will go down in cinematic history as a season of extremes.
It's been a summer of box-office bonanzas and financial failures, of triumph and tragedy.
But before you say goodbye to the summer movie season, there's an entire month of movies to check out. Below is my take on August's batch of heartwarming family films, off-kilter comedies and brawny action flicks.
***
"Total Recall" (Opens today)
Back in 1990, Dutch director Paul Verhoeven ("Starship Troopers") shocked and scintillated audiences with "Total Recall," a gleefully violent science fiction flick that boasted Arnold Schwarzenegger, Sharon Stone AND a three-breasted woman — as well as awesome lines like "Get your ass to Mars!" This anemic-looking remake, starring Colin Farrell and Kate Beckinsdale, shares the same basic storyline as the original but lacks its bizarre charm.
"Diary of a Wimpy Kid: Dog Days" (Today)
The third movie based on Jeff Kinney's popular books finds incoming eighth-grader Greg (Zachary Gordon) all set for a summer of fun. Unfortunately, his plans are thwarted by his dimwitted older brother (Devon Bostick) and his loving but clueless dad (Steve Zahn), who wants to bond with his son.
"The Bourne Legacy" (Aug. 10)
The tagline — "There was never just one" — says it all. A decade after Matt Damon stunned audiences as amnesiac super-assassin Jason Bourne, Jeremy Renner is stepping into the spotlight as CIA operative Aaron Cross, a dangerous man with a mysterious past. The latest addition to the "Bourne" franchise could be fun, but Renner really deserves better.
"The Campaign" (Aug. 10)
A polished North Carolina congressman (Will Ferrell) and his upstart rival (Zack Galifianakis) face off in this political comedy of errors, directed by Jay Roach of "Meet the Parents" and "Dinner for Schmucks" fame. "The Campaign" may not be the most sophisticated election-time offering, but it looks like good goofy fun.
"Hope Springs" (Aug. 10)
After 30 years of marriage, Kay and Arnold Soames (Meryl Streep and Tommy Lee Jones) are in a rut. They seek out Dr. Bernie Fields (Steve Carell) for a week of intense couples counseling in the rekindling the flame. If it seems like you've seen this movie before, well, you probably have.
"The Odd Life of Timothy Green" (Aug. 15)
Unable to conceive children naturally, Jim and Cindy Green (Joel Edgerton and Jennifer Garner) bury their wishes for an ideal son in the backyard, oonly to have 10-year-old Timothy (Cameron Adams) enter their lives. This modern-day fairy tale has the potential to be magical, or super sappy.
"The Expendables 2″ (Aug. 17)
The boys are back in town. In this full-throttle follow-up to 2010′s "The Expendables," over-the-hill action stars Sylvester Stallone, Arnold Schwarzenegger, Bruce Willis, Jean-Claude Van Damme, etc., seek to recapture some of their lost glory with the help of "The Hunger Games" hottie Liam Hemsworth and living Internet meme Chuck Norris. This is brawny, brainless entertainment at its best.
"ParaNorman" (Aug. 17)
Social outcast Norman (voiced by Kodi Smit-McPhee) is a kid with an unusual talent: He can speak to the dead. His gift comes in handy when his New England town is threatened by witches, ghouls, zombies, and, worst of all, moronic adults. Boasting the best 3D stop-motion animation I've seen since "Coraline," this horror-flavored comedy thriller promises to be a scream.
"Sparkle" (Aug. 17)
Not to confused with "Glitter," Mariah Carey's miserable biopic, this Motown drama about three sisters (led by "American Idol" winner Jordin Sparks) who form a successful group in the 1960s sounds suspiciously like "Dreamgirls." Of course, the original "Sparkle" came out in 1976, while "Dreamgirls" premiered on Broadway in 1981, so draw your own conclusions.
"Hit and Run" (Aug. 22)
Former getaway driver Charlie Bronson (Dax Shepard) busts out of the Witness Protection Program to help his girlfriend (Kristen Bell) get to Los Angeles, only to arouse the attention of his old gang and a U.S. marshal (Tom Arnold). Expect a raunchy R-rated comedy, featuring loads of obscenity, nudity and Bradley Cooper with blond dreadlocks.
"Premium Rush" (Aug. 24)
When he's told to deliver a mysterious envelope, bike messenger Wilee (Joseph Gordon-Levitt) finds himself pursued through the streets of Manhattan by a corrupt cop (Michael Shannon). It's "The Transporter" meets "Quicksilver," with a dash of post-millennial angst thrown in for good measure.
"The Apparition" (Aug. 24)
After moving into a new apartment, a young couple (Ashley Greene and Sebastian Stan) is haunted by a supernatural presence accidentally conjured by a university experiment. Ho hum.
"Lawless" (Aug. 29)
The Bondurant brothers — Forrest (Tom Hardy), Jack (Shia LeBoeuf) and Howard (Jason Clarke) — are bootleggers in Depression-era Virginia. Unfortunately, Special Agent Charlie Rakes (Guy Pearce) wants a cut of their profits and gangster Floyd Banner (Gary Oldman) wants to put them out of business. Directed by Australian director John Hillcoat ("The Road," "The Proposition"), this violent drama has great potential.
"The Possession" (Aug. 30)
When did August become such a hotbed for horror> Jeffrey Dean Morgan and Kyra Sedgwick star as the parents of a young girl who is possessed by the ancient demon dwelling in an antique box.. Great shades of "Haunted Collector!"
No related posts.