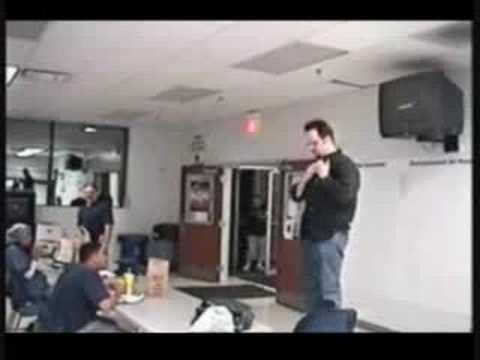 Have you ever fantasized about quitting your job in dramatic fashion?
I once quit a shoe store gig fairly dramatically — letting the universally despised assistant manager know exactly how I felt about him in front of the entire store.
All right, all right. Technically speaking? I was fired.  But when I told him what I felt about him, I pretty much knew where it was going, so consider it a suicide mission, of sorts.
But while I was a bit of a Shoe Carnival martyr after that departure, I was no way as cool as the guy above, who left most memorably. Of course, I found this video while reading about the JetBlue flight attendant , who has become a working class hero since leaving his gig on an emergency ramp with two beers in hand.
Of course, in this economy, there are fewer dramatic exits, as people are less likely to part with even the crummiest of jobs, fearing they'll be out of work for who knows how long. So stories like the flight attendant resonate with those who wish they could bail (not me, I swear — I LOVE my job. And I need the money! And, let's not forget — I have no other marketable skills!) but can't.
While the JetBlue incident has been garnering headlines for a few days, what I really like about Doug Walker above is his use of music, employing both the theme from "2001: A Space Odyssey" and Queen's "Bohemian Rhapsody." Check it out.
No related posts.