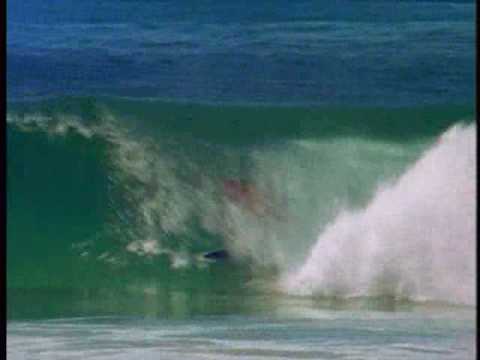 For a few years now, a small crew of us here at the Tribune have gathered during our lunchbreakevery Friday to play music.  And one of the cover songs I introduced to our little group — which I call the Nooners — is a tune called "Nothing" by Mason Jennings.
I first heard the song while watching the surf movie "Shelter," featuring well known surfers like Rob Machado, Joel Tudor and others chilling out at an Australian shack, catching waves in between campfire acoustic jams.
As I mention in today's Ticket story about Jennings, the song — along with his tune "Butterfly," also featured on "Shelter" — has nothing to do with surf or surf music. But it fits the laid back vibe.
Since Jennings is performing at SLO Brew Saturday, I figured I'd preview the show, which also gave me a chance to ask him about that song.
The song describes an old house with brown water that he was embarassed to show his girlfriend. As he sings in the opening lyrics: Make yourself at home, 'cause I'm going out to get us some water/'cause this water's brown, and I'm so embarassed to have you here/and I want you around
"It was like an old Victorian," Jennings said. "There was a city block and there were three houses, and they were divided into apartments. My friend and I had the bottom . . . A while ago, it was probably a really nice house, but it was kind of beat up."
In the next set of verses, he describes the inability to impress his girlfriend with his music.
Usually I'd sing or play you my guitar/But I know it won't get very far with you
"All she liked was house music," Jennings explained. "And it was a funny thing. I was like, 'I want to be a musician, but I like this girl, and the kind of music I make isn't even on her radar."
The final set of verses describe the decor of the house: It's still just a room with the drums in the middle/a couch along the wall that works as my bed
"It was kind of beat up," Jennings said of the house. "But it had nice wood."
That wood was condusive for recording there, he said. In fact, his first album — self-titled — was recorded there.
"Right when I finished the record they came in and told us we were going to have to move," he said. "They were going to pick the house up and move it to a different neighborhood. So I was bummed out because I could get really good sound in that living room, and I was disappointed that I wasn't going to be able to keep recording there."
Jennings, who is promoting his new album "Minnesota," performs at SLO Brew Sunday at 4 p.m.
No related posts.