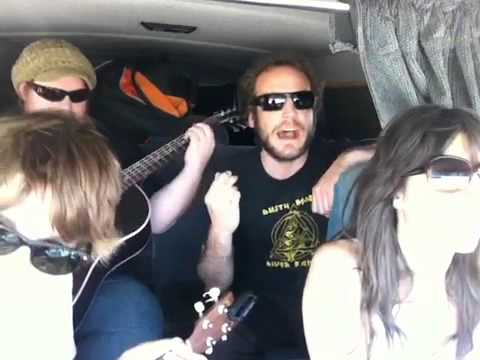 If ever a song was meant to be performed on the road it was "Ramblin' Man" by the Allman Brothers. And the Bay Area band Nicki Bluhm & the Gramblers took it a step further — they performed it while literally driving down the road.
The band, which will appear at Boo Boo Records in San Luis Obispo Saturday, has actually recorded a series of songs while driving. (Bluhm sings lead vocals while at the wheel.) Other songs they've recorded on the road include covers of Madonna's "Material Girl," Marvin Gaye's "How Sweet It Is" and "Don't Worry Be Happy," the Bobby McFerrin tune.
As you can see on "Ramblin' Man" — one of the iconic traveling tunes — the band features tight harmonies, lead by Bluhm's. This particular video was recorded as the band was driving from Ashland, Oregon, to San Francisco. (Perhaps their best harmony performance might be "Don't Worry Be Happy.")
Bluhm's singing career began when she sang at a New Year's Party. There, her future husband, musician Tim Bluhm, met her and encouraged her to perform. Soon, she was touring with her band the Gramblers.
To pass time in between gigs, they began recording cover tunes while traveling in their van. Their cover of  "I Can't Go For That" by Hall & Oates became an Internet hit, with over 1 million views.
The band is one of nine performing throughout the day at Boo Boo Records in honor of National Record Store Day. The performances begin at 10 a.m. and continue until 9 p.m. See Boo Boo's site for more info.
No related posts.