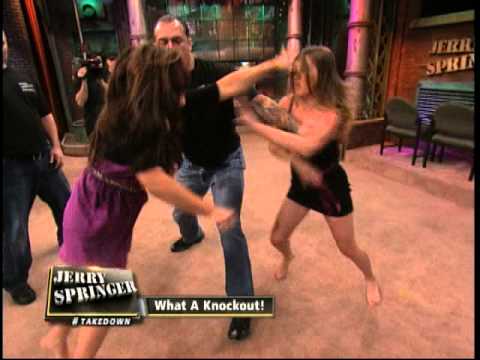 For a couple of decades now, the best way to describe familial dysfunction was to suggest that a family could wind up on an episode of "Springer."
Well, I guess my family has reached that milestone.
Yesterday, one of my nieces appeared on "The Jerry Springer Show," known mostly for spotlighting prostitues, deadbeats and really, really messed up families. The show itself has boasted that TV Guide called it the "worst TV show ever," according to Wikipedia, and it bragged that each episode represents "an hour of your life you'll never get back."
I first learned that Gina — one of my sister's three daughters (wearing purple in the above clip) — was going to be on the show from my mom a few months ago.
"Jerry Springer?" I said. "That show's still on?"
I'd assumed it'd been off air for a good ten years. But apparently it's been on ever since it debuted in 1991, with recent episodes that include titles such as — I swear I'm not making this up* — "Lesbians on Ice," "My Dad is Marrying My BFF" and "Trannylicious."
So, yeah. We're all very proud.
Fortunately, Gina was not on the "Sister Seduction" or "I Had Sex with Your Mom" episodes. I don't actually know what the name of her episode was, though the premise was something like: "My BFF Slept with My Boyfriend."
Then, as a twist — and I hope I'm not giving this away for those who might want to watch it — the boyfriend's sister comes on stage to say that she was also sleeping with the BFF.
I know what you're thinking — kind of tame for a Springer episode.
Needless to say, there was some arguing and — as is usually the case — a slapdown. Actually, at least two slapdowns.
But at least my niece had a good time. (She and the BFF are ok now.) And the consensus among online commenters is — if I can summarize — she's hot and how could that bum cheat on her and that two-faced BFF is a –
Well, you can read all that if you want. But, like the Springer show, it is adult-oriented.
I have to say that I think my niece did come off well despite, you know — Springer. That little kid I remember is now a pretty woman (with a stiff right jab). So who knows. Maybe someone will see her on Springer and offer her a modeling gig.
Hopefully, not the kind that will get her back on Springer, though.
* If I can borrow a line from Dave Barry.
No related posts.