About once a week folks e-mail or post a comment asking if I can find an image in the files.
If it were only that easy. Our image files before 1970 are scrambled. In addition, before the first full-time photographer was hired in 1962, reporters would shoot a roll of film, have prints made at a local shop and occasionally the librarian would deem the prints worthy of being filed. Who knows where the negatives went.
Several boxes of material were trashes in the 1960s or 70s. Fortunately some were rescued from the dumpster by an archivist from the History Center of San Luis Obispo County. They have generously helped me with more than one story from the 1950s.
Some assembly required. Take this image for example. The negative box this came from is marked Sept 1966 but sifting through the contents reveals images spanning at least three years 1964-65-66. The glassine 35 mm negative sleeve for this story was unmarked. The old tractor and view down Spring Street made this a likely Pioneer Day parade.
I marked the sleeve "Pioneer Day?" and set it aside for later study.
That knowledge narrows it down to the Saturday before Columbus Day but what year? The Vault had already published images from 1966 and 1970 Pioneer Day. A check of the microfilm yielded no match for published images in 1965. The 1964 edition has a similar photo of the antique tractor but none of the photos are a match with published images. A closer look at the tractor frame shows a boy on horseback holding a sign with the title 1865 Patterson Family. My inclination is to call this the 1965 parade.
According to the story by Bill King parade highlights in 1965 included Ronald Reagan on horseback a large Tournament of Roses worthy float entered by the Soledad Mission, and a pointed entry by the Creston School District. They took a humorous slap at their shotgun unification with the Atascadero schools due to a new state law. Dressed as the Munsters they pulled a tombstone inscribed "Good-bye Creston School District, done in by Big Daddy, AB145″
"Also well received was Ronald Reagan, actor and potential GOP Candidate for Governor, who surprised parade goers as he galloped by them on a spirited horse—a combination of Zorro, Daniel Boone and a toothpaste advertisement."
Wish we had those pictures. If someone recognizes these folks and knows the year please post a comment.
Paso Robles blogger Wordy Dave mentioned this historic film of the Pioneer Day parade in a previous comment.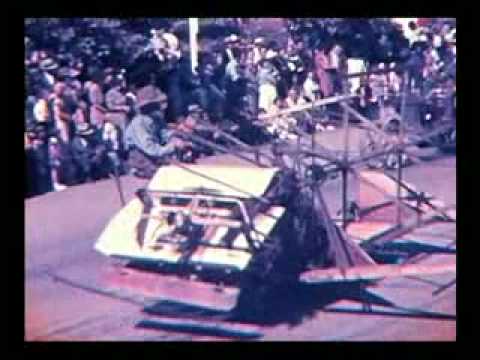 Related posts: